Overview
In recent years regulators and legislators have intensified their focus on how businesses are being run. New Corporate Governance measures that are beneficial for both stakeholders and controllers have been brought forth. This course will help you adopt a mechanism for effective governance in your organisation. You will be able to implement best practice on corporate management.
This course is designed for both directors, management, and those with responsibilities for introducing Corporate Governance into organisations. This unique course addresses the principal components of good Corporate Governance. You will be able to enhance investor confidence through improved accountability and transparency. You will understand what Corporate Governance is and why it is important. You will study the international governance frameworks. You will get an update on MENA Corporate Governance codes. You will discuss Corporate Failures to know what the failures were and what should have been done to avoid those failures. You will examine the Board's relationship with Risk Guidelines for effective fraud prevention. You will learn how you can implement a compliance strategy programme in your organisation.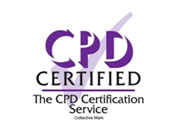 About CPD
Established in 1996, The CPD Certification Service is the independent CPD accreditation centre working across all sectors, disciplines and further learning applications and supports policies of institutional and professional organisations globally.
CPD is the term used to describe the learning activities professionals engage in to develop and enhance their abilities and keep skills and knowledge up to date. This course is an accredited Continuing Professional Development (CPD) training which means it meets CPD standards and benchmarks. The learning value has been scrutinised to ensure integrity and quality.

Sharon Ditchburn
Sharon Ditchburn is a Fellow of the Governance Institute of Australia and ICSA (UK), a Certified Practicing Accountant, and holds legal qualifications from Australia, as well as an MBA specialising in Corporate Governance, Entrepreneurship and Strategy.
Sharon has been registered as an Authorised Individual by the DFSA since 2007 with a wide range of regulated entities, including investment banks, brokerages, trust companies and wealth managers. Sharon also has wide-ranging experience at senior management level in Australia and the UAE in industries such as energy, mining, IT and banking. Since arriving in the UAE in 2003, she has worked with a wide range of listed, private and government owned enterprises in the GCC, including financial institutions, stock exchanges, private industrial firms, government departments and family owned businesses.
Sharon is a Member of the Australian Institute of Company Directors and Association of Certified Anti-Money Laundering Specialists (USA). She is a recipient of the Solvi Stenbro Prize in Ethics (QUT). She is one of the few individuals in the GCC certified by the IFC/World Bank to deliver their Director Development Programmes.
| | |
| --- | --- |
| 21 Feb 21 - 24 Feb 21 | USD 1940 |