Overview
Duration: 4-week online course | 2 hours per week
Compliance, integrity and good governance have become an obligation and not a choice for the organisations.
Compliance is an outcome of an organisation meeting its obligations. It may sound and seem easy, but the complexity of the modern business environment, in combination with the emerging compliance risks create difficulties in achieving the strategic goals.
How do we achieve compliance? What is the role of the Board and the top management? What kind of compliance management systems do we need to have in place? How do we implement them and how do we evaluate their performance?
ISO 19600:2014 sets the international standard of Compliance Management Systems, which may apply to all companies of all sizes, across all industries. Application of its guidelines assists companies, Boards and Compliance Officers to create and enhance their compliance frameworks with consistency and customisation to their needs in order to achieve their business objectives.
This course will enable the attendees to create, review and enhance their Compliance Management Systems, their Compliance Framework and eventually their good governance, so as to identify opportunities, de-risk their organisations and protect their value.
The learning objectives will be further enhanced by the use of case studies, references, practical questions and quizzes throughout the course.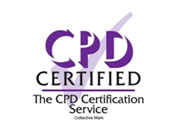 About CPD
Established in 1996, The CPD Certification Service is the independent CPD accreditation centre working across all sectors, disciplines and further learning applications and supports policies of institutional and professional organisations globally.
CPD is the term used to describe the learning activities professionals engage in to develop and enhance their abilities and keep skills and knowledge up to date. This course is an accredited Continuing Professional Development (CPD) training which means it meets CPD standards and benchmarks. The learning value has been scrutinised to ensure integrity and quality.

Afroditi Boura
Afroditi Boura is a member of the Association of Professionals of Regulatory Compliance of Greece, member of the Economic Chamber of Greece and a certified Compliance and Risk Manager from the EU. Afroditi holds a BA from University of Piraeus in Greece and certification for ISO31000:2018 as Risk Professional and as Trainer.
Afroditi has been registered as an Authorised Individual by the DFSA since 2017 and by the CMA in Kuwait since 2019 and has worked with a broad range of regulated entities in Middle East and Europe including insurance and reinsurance, healthcare, oil and energy, food and beverage, pharmaceutical, wholesale, brokerages, financial institutions, construction, telecommunication and automobile.
Afroditi also has wide experience at senior management level with government owned enterprises in the GCC and Europe.
| | |
| --- | --- |
| 28 Feb 21 - 27 Mar 21 | USD 1500 |