Overview
Globally, businesses continue to face challenges and risks associated with dynamic economic and market environments. This promotes a continual assessment of the adequacy and effectiveness of internal control structures that are designed to manage the associated risks. Stakeholders in business also continue to demand more accountability in organisational governance structures whilst ensuring business sustainability. To address the complex external and internal influences, businesses need to ensure a balance between governance, risk management and compliance.
An integrated organisational approach promotes appropriate risk identification and the collation of information for decision-making at the highest levels, with audit committees demanding insight into business risks and compliance obligations, how these are being managed and assurance over the key business risks. Viewed at a strategic level, GRC can enable information provision that supports organisational performance and adaptability within increasingly changing markets.
Many organisations continue to face difficulty arising from fragmentation across risk, compliance and assurance activities that are integral to the GRC environment. A common approach to risk identification and assessment that is driven from a strategic level ensures an effective approach to GRC that is aligned to the organisational strategy.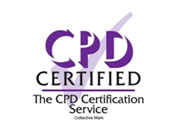 About CPD
Established in 1996, The CPD Certification Service is the independent CPD accreditation centre working across all sectors, disciplines and further learning applications and supports policies of institutional and professional organisations globally.
CPD is the term used to describe the learning activities professionals engage in to develop and enhance their abilities and keep skills and knowledge up to date. This course is an accredited Continuing Professional Development (CPD) training which means it meets CPD standards and benchmarks. The learning value has been scrutinised to ensure integrity and quality.

Peter Hofmann
Peter Hofmann is an Executive Director of MFX Options and Solutions (Pty) Ltd, specialising in business management and corporate strategic and operational management consulting. The platform for his current business focus was established through his exposure to the holistic corporate business environment where he built a successful career over two decades, having established and built up successful departments focused on operational and executive management and board liaison.
His integral involvement with a range of international clients includes projects undertaken by MFX such as:
Strategic business plans, functional plans and processes, supply chain management, strategic planning and process analysis for implementation of ERP systems
The assessment of economic, social and environmental impacts and development of systems and processes to drive performance management and reporting and compliance within an organisational context
The assessment of risk management and compliance frameworks to support the development of integrated GRC structures within business entities
The analysis of key ESG issues to develop reporting objectives, frameworks and communication channels
The development and implementation of performance strategies for business units
Development of five-year strategies on an annual basis, customer surveys and measurement, business unit strategies and electronic customer focused marketing campaigns
The development of performance-related communication strategies and strategy implementations
| | |
| --- | --- |
| 15 Mar 21 - 18 Mar 21 | USD 1940 |