Overview
By attending the course, you will learn what data is, and how to leverage data analysis techniques to improve operational and strategic decision-making. You will understand the fundamentals of data and data analysis, allowing you to apply the correct techniques based on the type of problem and type of data you deal with.
You will be able to understand and evaluate when to use data, and which statistical tools to use to produce specific outcomes. Your analysis will be underpinned by an understanding of the correct use of the right data visualisation techniques. Given that the lens of the course is in the context of business decision-making, the course is geared to ensuring you can learn how to leverage data to make sound business decisions.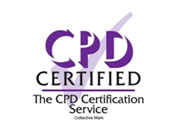 About CPD
Established in 1996, The CPD Certification Service is the independent CPD accreditation centre working across all sectors, disciplines and further learning applications and supports policies of institutional and professional organisations globally.
CPD is the term used to describe the learning activities professionals engage in to develop and enhance their abilities and keep skills and knowledge up to date. This course is an accredited Continuing Professional Development (CPD) training which means it meets CPD standards and benchmarks. The learning value has been scrutinised to ensure integrity and quality.

Manoj Chiba
Manoj Chiba is a management professional with over 10 years of senior management experience. He is currently the Principal Consultant and Data Analysis Specialist for ATBM Advisory and has consulted to over 50 companies. He is also a Non-Executive Director on three Boards of Directors and continues to advise companies EXCOs and deliver operational projects across industries.
His passion is driving the triple bottom-line through evidencebased research and some of his work includes price-setting strategies, market share analysis and strategic input. He also has a strong passion for education at the grass-roots level and assisting in solving youth unemployment in South Africa. He has completed a Doctorate of Business Administration (DBA), and lectures MBA students at Georgia Institute of Business Science – University of Pretoria (GIBS) on analytical tools and techniques and supervises MBA projects.
He has provided training for KNect365 London and Georgia on Data Analytics programmes, and has also developed online courses on Big Data.
| | |
| --- | --- |
| 15 Feb 21 - 18 Feb 21 | USD 1940 |