Overview
Defining, agreeing and implementing Key Performance Indicators (KPIs) for managers are essential for an organisation to achieve its business strategy and objectives. Defining and then managing these KPIs is often difficult for managers to do and in particular defining KEY leading indicators that reflect the strategic performance of an organisation. The problem is that managers do not spend sufficient time thinking through their KPIs, so there are often too many, they may not be focused and as a result they often have limited impact on the business strategy.
The effectiveness of KPIs can be directly related to the care with which they are defined and implemented.
The aim of this course is to make sure you understand the role and benefits of KPIs to an organisation's success and provide you with practical experience to define your KPIs for yourself and your employees.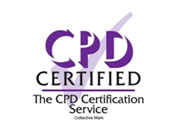 About CPD
Established in 1996, The CPD Certication Service is the independent CPD accreditation centre working across all sectors, disciplines and further learning applications and supports policies of institutional and professional organisations globally.

CPD is the term used to describe the learning activities professionals engage in to develop and enhance their abilities and keep skills and knowledge up to date. This course is an accredited Continuing Professional Development (CPD) training which means it meets CPD standards and benchmarks. The learning value has been scrutinised to ensure integrity and quality.

Tom Raftery
Tom Raftery has established a human capital consulting company – it's all about people – based in Dubai, using his extensive experience in HR strategy, processes and systems, organisational design, leadership, change management, and compensation and benefits.
Prior to this, he was VP HR for Arc International, the world's largest glass and tableware manufacturer and was responsible for a workforce stretching from Japan to Africa, based in Dubai. Tom has over 30 years' international HR experience and has spent over 15 years in the Middle East, including working at Board level with the Nazer Group in KSA and as a consultant with a local HR consultancy. Tom was the head of HR for a major division of British Aerospace, and HR Manager for a subsidiary of Sedgwick Forbes based in Athens. Tom has extensive consulting experience gained working for Towers Watson, Arthur Andersen and his own consulting company. This experience covers all aspects of HR, large change management projects, leadership development, and facilitation work with senior executives.
Tom's senior line management and consulting experience has given him methodologies and frameworks, and the experience of how to effectively implement them. He has also developed incentive schemes, recruiting, performance management and talent management processes.
Tom is now focusing on Human Capital Consulting, that involves listening to and understanding the client's needs and then developing appropriate solutions, along with the business case. This ensures that the solution adds value to the business. He has launched Coaching for HR by HR™ to support HR professionals and Impact Role Play™ utilising professional actors in role play in training and assessment centres.
Tom has a degree in industrial sociology, an MBA from Warwick University and is a member of SHRM and CIPD. He has presented at various conferences in Europe and the Middle East and is an engaging facilitator and trainer.
Tom has been awarded the Human Resource Business Professional (HRBP®), a global, competency-based credential designed to validate professional-level core HR knowledge and skills.
| | | | |
| --- | --- | --- | --- |
| 22 Oct 19 - 24 Oct 19 | USD 2995 | USD 3495 | USD 3995 |