Overview
Leadership is one of the most researched and written about topics in the business world. However:
How do you transfer the wealth of knowledge out there into practical step-by-step actions that yield results?
How do you motivate and inspire your team?
How do you achieve clarity and focus on the critical issues that may have long-term impact?
How do you make difficult decisions that strike a balance between human relations and pragmatism?
How do you change an organisation's culture and develop new standards of performance?
Using a hands-on, practise-based approach, this five-day course provides you with the tools, techniques and skills required to enable your knowledge and experience as a leader to successfully work for you and your organisation.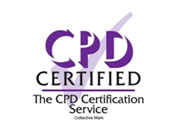 About CPD
Established in 1996, The CPD Certication Service is the independent CPD accreditation centre working across all sectors, disciplines and further learning applications and supports policies of institutional and professional organisations globally.
CPD is the term used to describe the learning activities professionals engage in to develop and enhance their abilities and keep skills and knowledge up to date. This course is an accredited Continuing Professional Development (CPD) training which means it meets CPD standards and benchmarks. The learning value has been scrutinised to ensure integrity and quality.
Basem Al Attar



Basem Al Attar is an award-winning leadership development strategist who has coached and trained CEOs, members of royalty, law enforcement officers and business directors from a range of industries.

He is a winner of the Asia Pacific Strategic Leadership Award, the World HRD Congress Global HR Leadership Award and his leadership development programmes have been recognised as the Best in Training and Organisation Development by Asian Leadership Awards. He has also chaired and regularly presented keynotes in the HR Summits in Cairo, Riyadh, Muscat, Mumbai, and Dubai.

Basem is a member of the International Training and Consulting Academy, the International NLP Trainers Association, and is a Certified Practitioner of Change Work. He currently teaches the ILM Endorsed Leadership courses in Dubai.

Basem works with people from more than 50 different countries around the world, including the Middle East. He excels at identifying individual and unique needs of each group he addresses, which is why participants often describe his workshops as "life-changing" events. His practical, personalised style coupled with his innovative approach to practice and exercises has made him one of the most in-demand consultants working in the Middle East today.